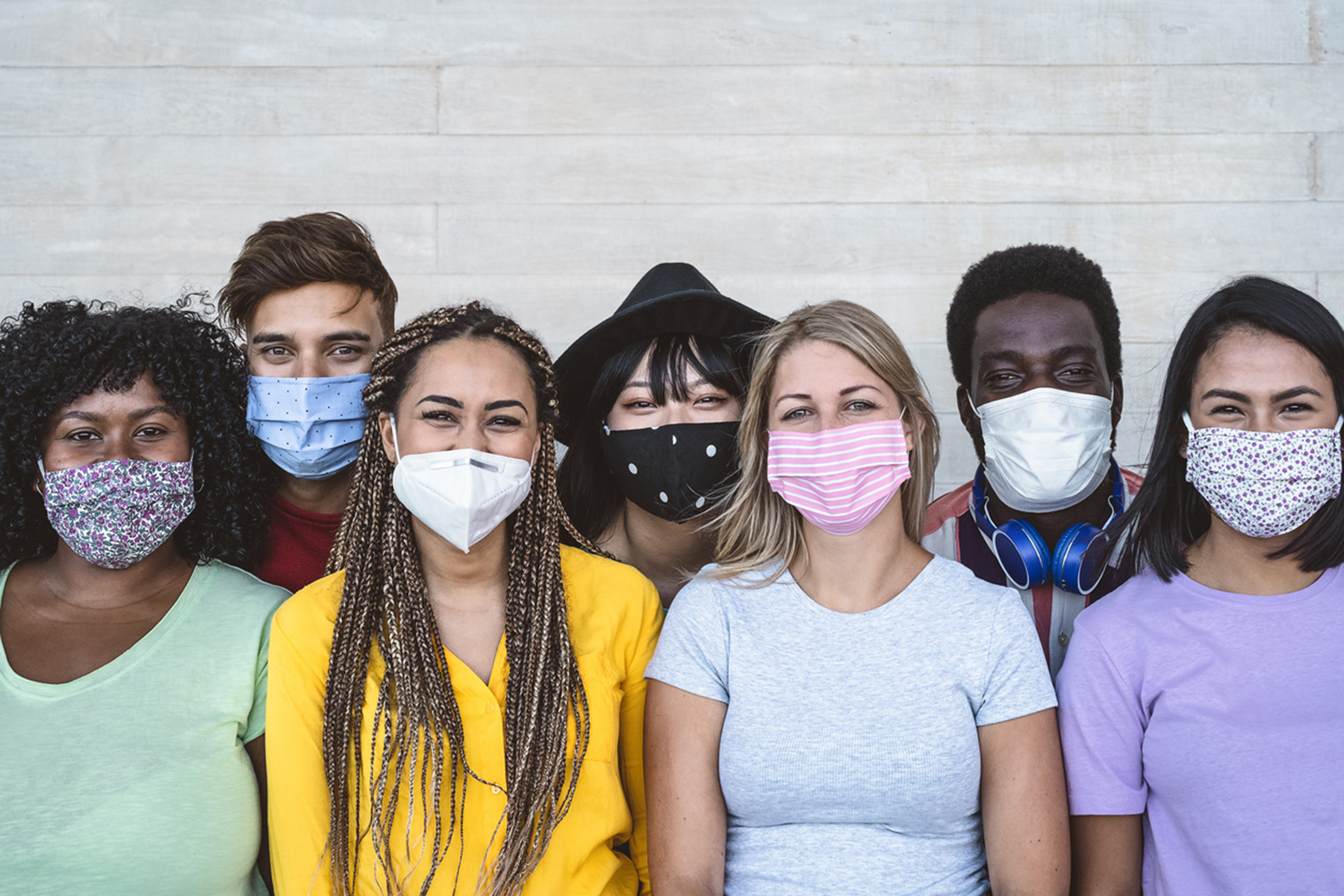 COVID-19 Research Guidance
As of September 23:
We are in Phase 5. While USC now supports fully in-person operations, the actual split between remote and in-person work will be determined and communicated by unit leadership based on restart guiding principles. Masks are still required in health care settings, if you have COVID-19, or for 10 days following exposure. For more information, see below.
Returning to Campus
On-campus research is permitted to resume in compliance with the Institutional Review Board (IRB), Institutional Biosafety Committee (IBC), and Institutional Animal Care and Use Committee (IACUC) protocols. Remote options can continue to support de-densifying areas when possible. Please visit the OPRS website for more specific requirements regarding clinical research.
Refer to the USC Research Ramp-Up Process, which includes school-approved PI/lab/group-level plans and University-approved school level plans. Restart Plans should reflect all information on this page. Use the USC Campus Restart Phase 5 Guidelines and related Appendix Materials to create your Restart Plan (USC Single Sign On required for access). PIs and research administrators should review all COVID-19 safety measures with their groups to ensure compliance with all the measures in the Appendix Materials. Continue to maintain highest safety practices in all in-person activity and use remote work methods whenever possible.
Researchers returning to campus should schedule deliveries as required. Additionally, areas returning should also contact mailing services to inform them of how to proceed with internal mail delivery (resume delivery or continue holding for pick up, etc.); the email contact for this is Mail7777@usc.edu or they can contact the Mailing Services manager Nita Pilate at (213) 821-1238.
COVID-19 Vaccination
All faculty, staff, and students must be fully vaccinated or have an approved medical or religious exemption. As of December 24, 2021, the University is also requiring booster doses. Staying up to date on your COVID-19 vaccines and boosters remains the best protection against severe disease and hospitalization. Being up to date means receiving a primary series and booster(s) when eligible.
As of September 1, 2022, CDC Director Rochelle P. Walensky, M.D., M.P.H., endorsed the CDC Advisory Committee on Immunization Practices' recommendations for use of updated COVID-19 boosters from Pfizer-BioNTech for people ages 12 years and older and from Moderna for people ages 18 years and older. Updated COVID-19 boosters add Omicron BA.4 and BA.5 spike protein components to the current vaccine composition, helping to restore protection that has waned since previous vaccination by targeting variants that are more transmissible and immune-evading.
Booster appointments are available through USC Pharmacy. Schools and departments should not inquire about the vaccine status of any employees including student workers. Differential policies should not be created by anyone based on vaccine status. We must assume all campus settings are mixed (vaccinated and unvaccinated).
We encourage all USC employees to sign up for a vaccine through myturn.ca.gov to book a vaccine appointment as soon as one is available. Appointments are also available through the City of Los Angeles website. New appointments are added regularly as vaccine supplies become available. As required in the University's vaccine policy (Appendix 3K), please submit your vaccine record (after any dose) or the declination form (if you choose not to be vaccinated) to MySHR.
Symptom Screening and Testing
With cases of COVID-19 remaining low across Los Angeles County, the university is making further changes to its pandemic mitigation strategies to align with changing guidelines from Los Angeles County and the City of Los Angeles. Although your Trojan Check will not be verified when you access campus, all faculty, staff, and students should continue to check their symptoms whenever coming to campus. The Trojan Check wellness assessment will remain available as a helpful tool to complete this.
Surveillance testing is highly recommended for all students AND all employees who are not up to date on vaccination. Surveillance testing is also required for high-risk activities such as the performing arts. Testing also remains available for all students, faculty, and staff who develop symptoms or have been exposed to someone with symptoms. Information about testing, including scheduling details, is available here.
All students, faculty, staff, and visitors should monitor themselves for symptoms daily when accessing campus. If you develop any of the symptoms listed by the CDC, please stay home and arrange to have a COVID-19 test as soon as possible.
Mask/Face Covering
Masks are required in health care settings (including the Engemann and Eric Cohen student health centers, COVID-19 testing sites, the USC Herman Ostrow School of Dentistry, USC Pharmacies, and other patient care settings on campus). They are also required for individuals who have COVID-19 (through day 10), or have had close contact with someone who has COVID-19 (for 10 days following exposure). Masks are strongly recommended on all forms of public transit, including trains, buses, shuttle buses, and ride-shares. Masks are an individual preference in all other indoor public settings. N95 masks are available to all students, faculty, and staff who wish to increase their personal protection. These are available upon request and at no cost.
Although USC is following the CDC and Los Angeles County Department of Public Health in removing masking as a requirement, we want to be clear that masks will continue to be welcome on campus for all those who wish to continue taking extra precautions. According to the County's guidelines, although masking is no longer required indoors, it remains strongly recommended. The use of an N95 mask, in particular, provides a high level of personal protection to those who are concerned about their personal risk or risk to those around them. N95 masks are available to any faculty, staff, or student upon request and at no cost.
Illness Policy
Any faculty, staff, or student with any symptoms of COVID-19 or who has been exposed to someone with COVID-19 should refrain from coming to campus and should promptly contact USC Student Health for testing.
If an employee becomes diagnosed with COVID-19 and has been on USC facilities or in contact with USC faculty, staff, or students within 48 hours of the onset of symptoms, notify USC by calling the USC COVID-19 hotline at 213-740-6291 or covid19@usc.edu. Individuals should also notify their supervisor or dean that they will not be going to work.
Returning to campus locations and activities are not permitted until either a) all symptoms have resolved for at least 3 days and 10 days have elapsed from the onset of symptoms and the campus check-in process approves the return to campus: or b) receiving written clearance from your healthcare provider. Verification should be coordinated with the supervisor and HR partner. Masking Indoors is required for 10 days following an exposure regardless of vaccination status, symptoms, or test results.
Travel
Travel is now permitted, but business travel out of state is not permitted for unvaccinated persons barring special circumstances. Centralized approval process is required for international travel to State Department Level 4 countries; travel to non-Level 4 countries is at the discretion of school-level policies (for those, it is best to check with the school's vice/associate/divisional dean of research).
Travel conditions are always subject to LA County restrictions; please continue to consult travel advisories from the CDC, California Public Health and LA County Department of Public Health. Faculty are advised to book fully cancellable airline tickets and accommodation, since the university cannot reimburse canceled research travel costs.
| | | |
| --- | --- | --- |
| Situation | Type of Expense | Can the Expense be Charged to my Sponsored Project? |
| A project-related conference is cancelled | Non-refundable cancellation costs for flight and/or hotel | Eligible to be charged to the award, as allowable, allocable, and reasonable |
| A project related conference hosted by my federal sponsor is cancelled | Non-refundable cancellation costs for flight and/or hotel | Eligible to be charged to the award, as allowable, allocable, and reasonable |
| A project related conference is held in a restricted country, according to CDC Level 3 Countries | Non-refundable cancellation costs for flight, hotel and/or registration. | Eligible to be charged to the award, as allowable, allocable, and reasonable |
| A project related conference is held, but the USC participant decides not to attend. | Non-refundable cancellation costs for flight, hotel and/or registration. | Prior approval from the sponsor is required. |
Please note: If an airline and/or hotel offer credits in lieu of a refund, the costs associated with the flight and/or hotel cannot be direct charged to a sponsored project.