Sustainability is about responsibly managing and protecting Earth's natural resources to support current and future generations. One of USC's core values is to create a greener campus and planet, commit to making sustainability important, and integrate the core values across the University. Such as adding 205 hydration stations on all campuses and using 79% sustainably sourced produce and dairy for hospitality. USC defines sustainability as aligning our economic and social systems with nature's life support systems. By maximizing positive behaviors and minimizing trade-offs, USC believes the community can support a world where all species survive and thrive. The University's efforts to expand notable research opportunities at USC have surfaced along with implementing impactful sustainability initiatives. 
Dr. Ishwar K. Puri, senior vice president of research and innovation, said, "Addressing the urgent global need for sustainability, President Folt created the President's Sustainability Initiative Awards to inspire USC faculty to create innovative solutions. Our research community responded enthusiastically. These awards are for major initiatives that will have significant positive impact on sustainability."
USC R&I plays a vital role by providing internal funding supporting research through various programs managed by Research Initiatives and Infrastructure (RII). In 2022, USC R&I introduced the $1.25M President's Sustainability Initiative Award (PSIA) program to provide seed funding and encourage researchers to submit highly competitive applications for federal funding. Two types of grants under the PSRA program – large and small research awards – cover a broad area of research interest, including Human Health and Well-Being, Infrastructure and Built Environment, Natural Environment/Ecosystem Services, Communications, Policy, & Institutions and Risk Analysis and Economic Impacts. The ultimate goal of the grants is to provide research support to USC faculty to strengthen their grant proposal submissions and maximize the probability of attaining federal research support for USC's proposed efforts.
The 2023 PSIA Large Award recipients are: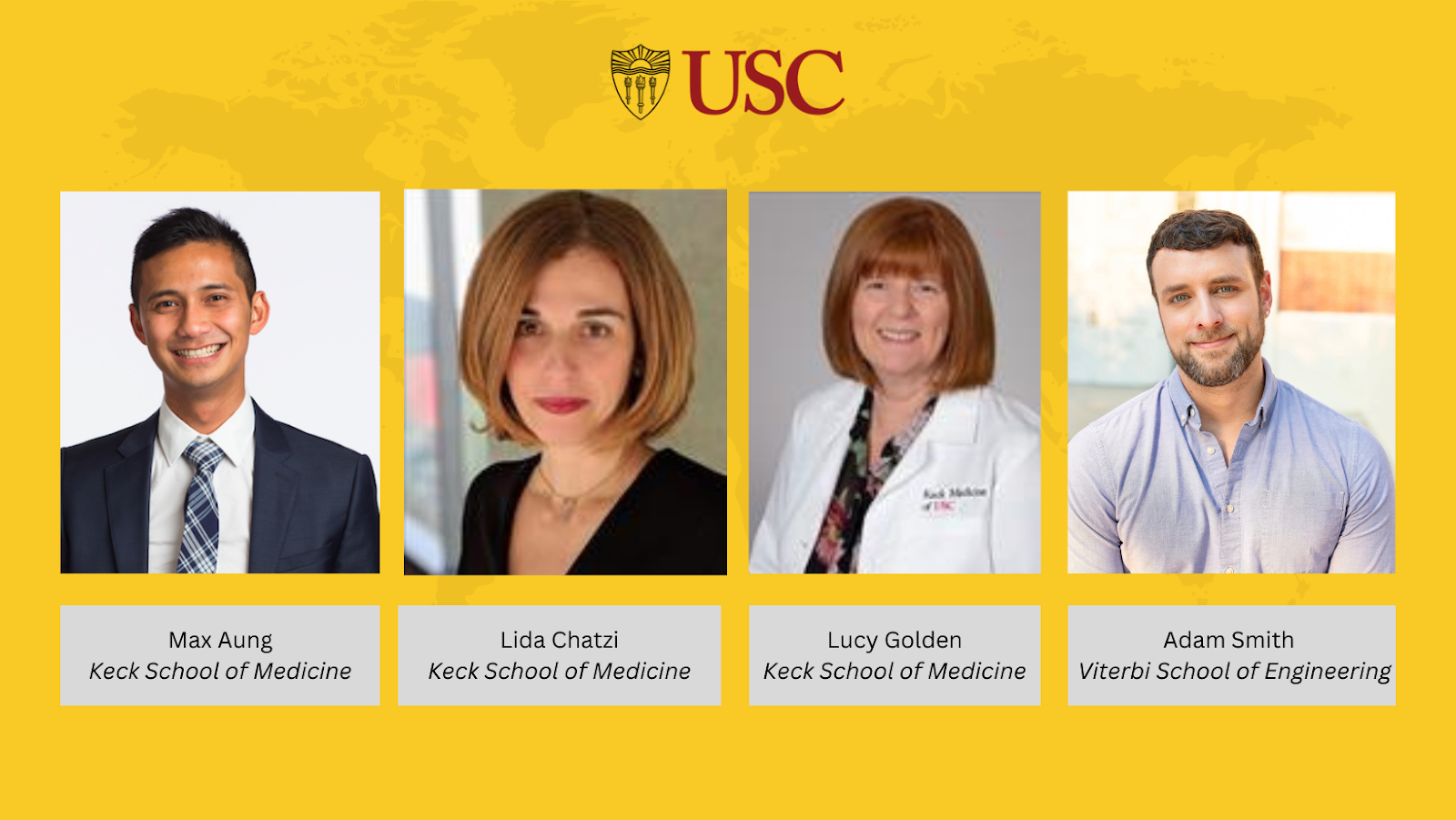 Project: "PFAS Act: Addressing the PFAS Drinking Water Crisis in Southern California"
Climate change is worsening droughts and jeopardizing water imports, forcing California to rethink water sustainability, especially as an emerging water quality crisis fueled by per- and polyfuoroalkyl substances (PFAS). These PFAS are a class of synthetic fluorinated organic chemicals that industrial applications and consumer products have used and continue to use since the 1940s. PFAS water contamination is a major concern in California, especially among environmental justice communities in Southeast Los Angeles. As a result of the complexity of this issue, the project was designed through a holistic approach, drawing on varied expertise from faculty at the Keck School of Medicine, Dr. Max Aung, Dr. Lida Chatzi and Dr. Lucy Golden, and USC Viterbi School of Engineering, Dr. Adam Smith.
Dr. Chatzi, professor of population and public health sciences, said "Through our solution-oriented research, we are engaging stakeholders and community organizations so that they can understand the importance of our research on pollutants and the health implications in Latino communities."
Through funding, the team conducted three projects across these two schools to develop this project as a whole: (1) a human epidemiological study that aims to conduct a PFAS exposure assessment and health monitoring in drinking water systems in Southeast Los Angeles communities, (2) research to determine the association of PFAS exposures with health outcomes, specifically through biomarker signatures of liver injury and metabolic disorders, and (3) research that looks at emerging PFAS that has yet to be identified, as well as the investigation and development of technology for PFAS degradation.
Project: "The Economics of Climate Change Mitigation and Adaptation"
Society faces key tradeoffs in achieving economic growth while reducing global greenhouse gas emissions and adapting to more frequent weather extremes caused by climate change. The project tests key hypotheses for climate policy's intended and unintended consequences using unique big data and machine-learning statistical tools. The strategies created and tested for this study the effects of new incentives to decarbonize our economy and to reduce the physical risks of climate change for all people, with a special emphasis on protecting people experiencing poverty.
This climate change adaptation research focuses on generating credible statistical estimates of the damage caused by spatial, physical shocks such as floods and other natural disasters. With these estimates of the "status quo," this project explores how changes in incentives and regulations can accelerate the pace of climate change adaptation. As a result, this team of faculty from the USC Dornsife Economics Department, Dr. Matthew Kahn, Dr. Robert Metcalfe, and Dr. Paulina Oliva, plans to develop tools to measure whether such adaptation occurs in rich and poor areas.
The carbon mitigation research agenda is purposefully diversified to address the specific challenges of three different settings, which have three integrated themes: (1) Studying the household demand for energy and how this is affected by introducing new products that lower the price of conservation; (2) Studying the economics of land use allocation to increase the supply of renewable energy produced in large nations such as China and India that are currently generating a large share of their power using coal, and because renewable energy is land-intensive, this means that the land markets and land allocation play a key role in determining the growth of the local green economy; and (3) Randomized field experiments are conducted to study the propensity of major corporations, such as Virgin Airlines and Walmart, to reduce their carbon footprint both through their management practices and through the products they sell.
The 2023 PSIA Small Award recipients are: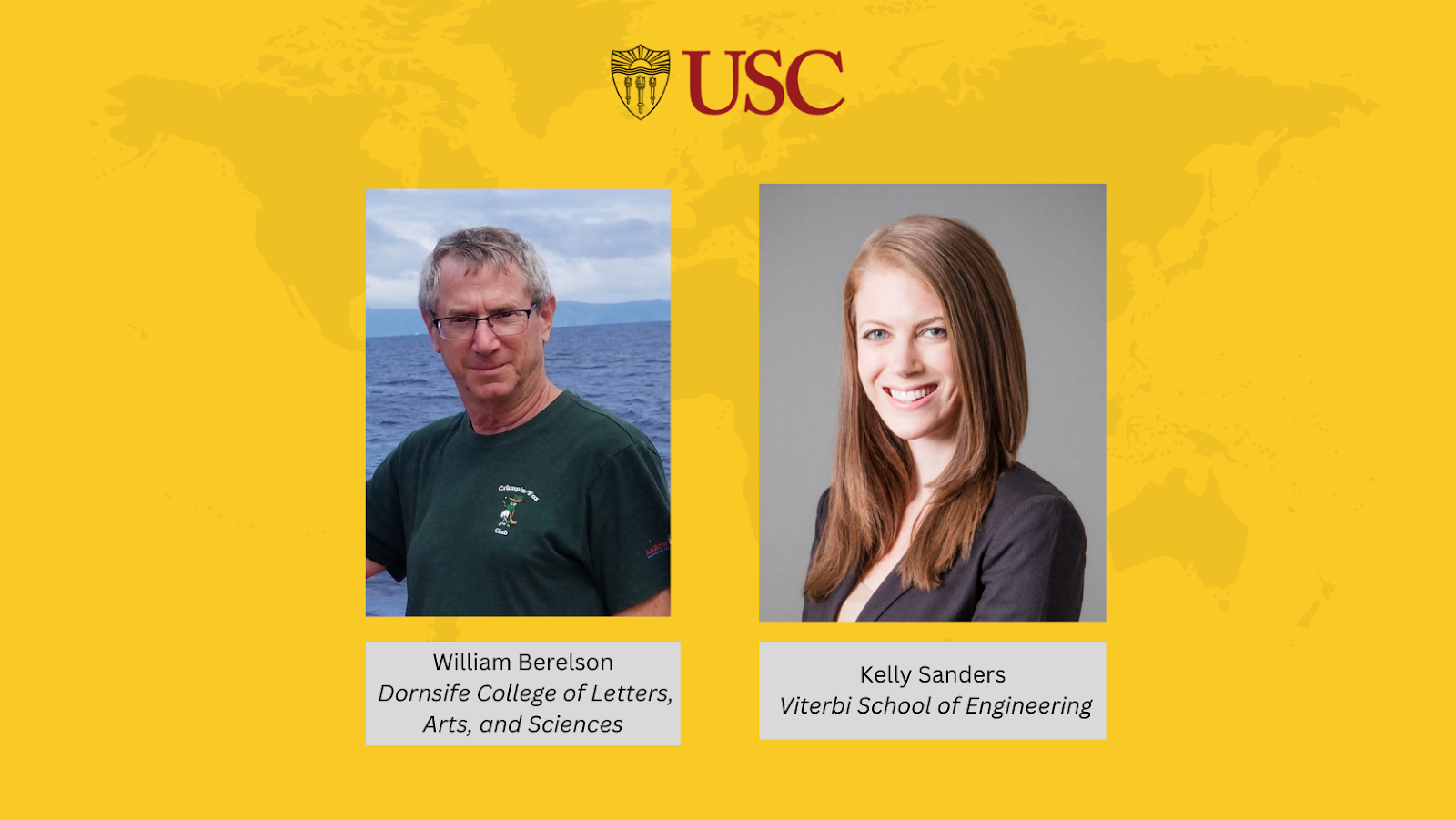 Project: "A Network of Air Quality Sensors to Serve LA Communities Impacted by Point Source Emissions and Help Develop Neighborhood-scale Insight into CO2 and Pollutant Inputs and Sinks"
The world's cities account for up to 70% of global greenhouse gas emissions and cover only 2% of Earth's surface. Due to this high amount of CO2 emissions, cities worldwide are adopting mitigation strategies to reduce CO2 emissions through organizations like the C40 Cities Climate Leadership Group, Inc., and the Global Covenant of Mayors for Climate and Energy. Los Angeles is leading these efforts to adopt mitigation strategies to reduce CO2 emissions, and USC is central to the city and plays a critical role in these sustainability initiatives. This duo team, Dr. William Berelson, professor of earth sciences, environmental studies, and spatial sciences, and Dr. Kelly Sanders, associate professor Sonny Astani department of civil and environmental engineering, describe how they want USC to be the leader in the chemical assessment and particulate emissions at a local scale to understand air quality factors across Los Angeles neighborhoods.
Dr. Berelson said, "Deriving fluxes from concentration data can lead to understanding emissions and sinks on a neighborhood scale. Neighborhoods are where our children play, where we shop and walk our dogs, and where we spend most of our time. We want to understand air quality factors across Los Angeles, but especially in Los Angeles' neighborhoods. We very much want USC to be the leader in the creative use of monitoring arrays for the assessing chemical and particulate emissions on this local scale."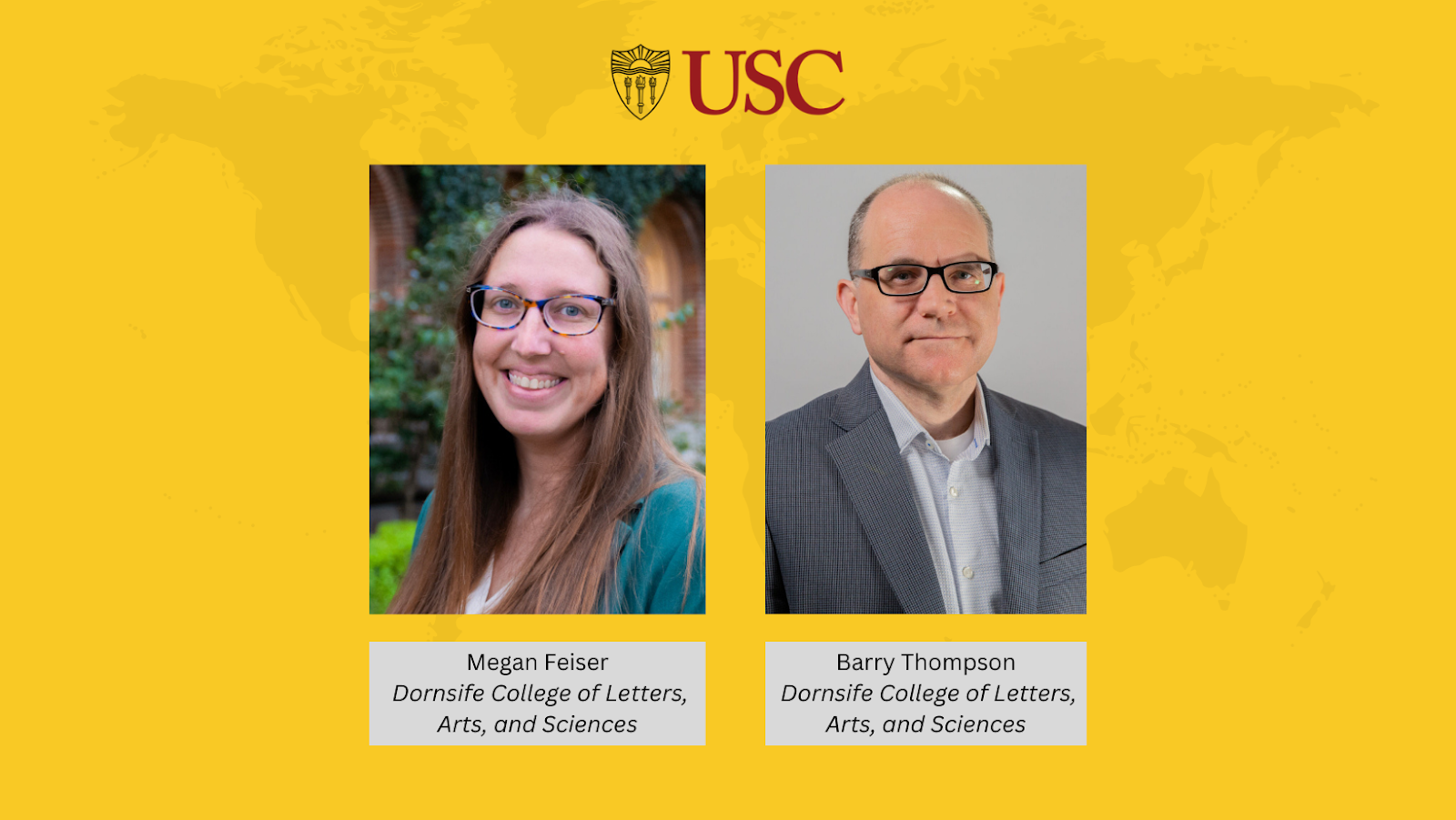 Project: "Catalytic Upcycling of Polyvinyl Chloride (PVC) to Electroactive Polymers"
Commonly known as PVC, polyvinyl chloride is an important polymer used to make countless items, such as plumbing pipes, toys, and medical items. However, PVC material has a toxic life expectancy. This material leads to filtering harmful additives (i.e., plasticizers and heavy metals), winding up in a landfill or a recycling center, affecting the environment, and producing dioxins, chlorine, and hydrochloric acid. As a result, Gabilan's Assistant Professor of Chemistry, Dr. Megan Feiser, and Assistant Professor of Chemistry, Dr. Barry Thompson, teamed up on this project to produce materials with less hazardous end-of-life while creating a value-added next life.
This team's ultimate goal is to remove chlorine from the PVC structure in an environmentally-friendly manner and replace it with a conjugated molecule in a controlled way, allowing for the synthesis of a conductive polymer product. Following this process, these new materials can potentially be applied in solar cell technology, thus showing this strategy to be useful in repurposing toxic and hazardous waste to generate useful products that will help tackle the energy crisis.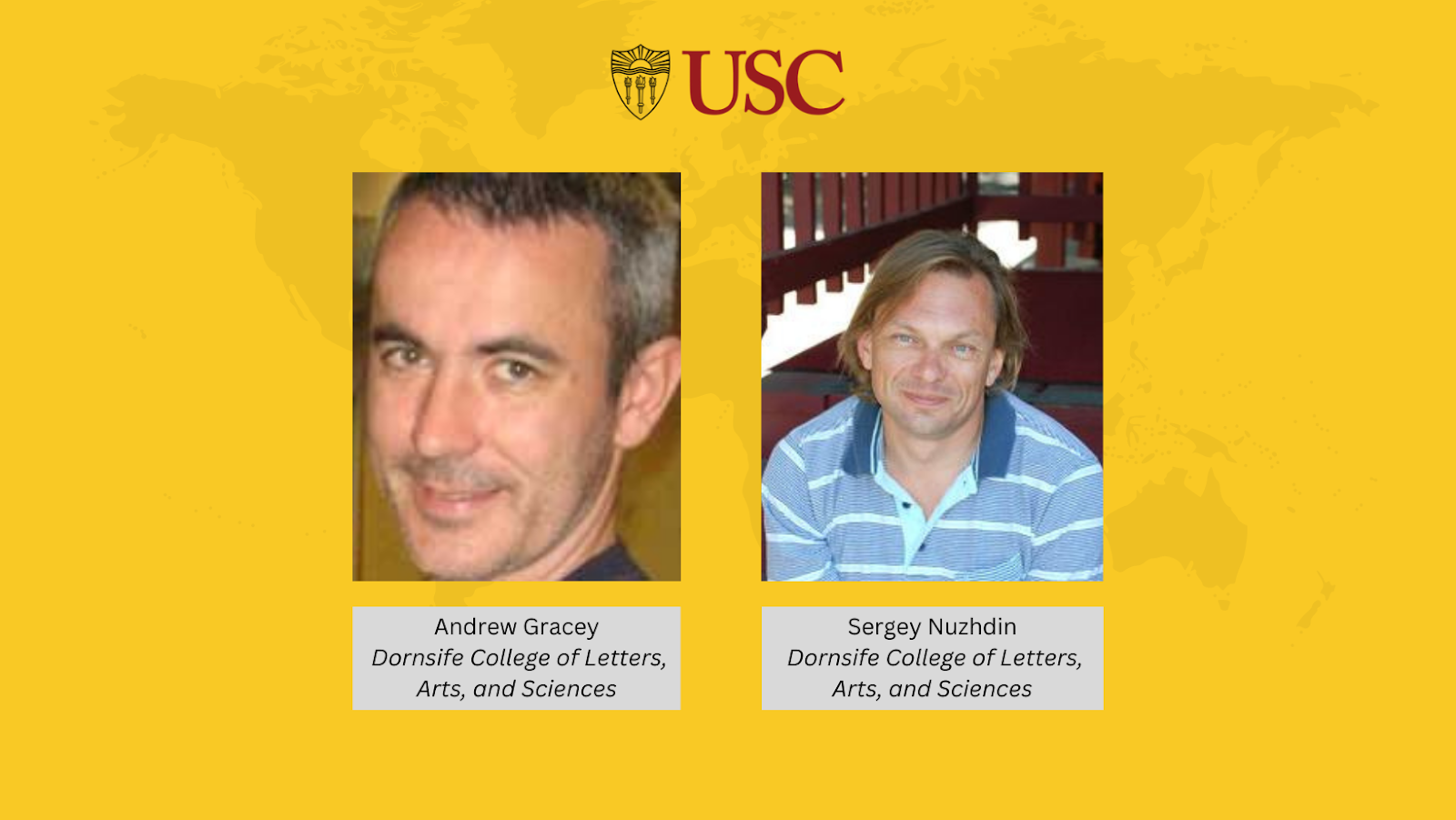 Project: "Establishing Healthy Coastal Ecosystems via Captive Breeding of Sunflower Sea Stars"
Voracious grazing sea urchins have decimated the iconic kelp forests that used to stretch along much off of the Pacific Ocean coastline. The sea urchin population is unchecked because the population of their main predator, the sunflower sea star, has been decimated by a viral disease that first appeared in 2013. With the long-term goal of restoring field populations, the main goal of this project is to establish the capacity to rear the sunflower sea star at USC. This goal will complement USC's growing leadership in kelp cultivation by providing the capacity and institutional knowledge to cultivate the sunflower sea stars, an essential inhabitant of healthy kelp forest ecosystems. Furthermore, this team, USC Dornsife faculty Dr. Andrew Gracey, associate professor of biological sciences, and Dr. Sergey Nuzhdin, principal investigator at the Nuzhdin Research Lab, initiated efforts to prepare the reared sea stars for out-planting back to the field by "priming" their immune system so that they will be better prepared to defend against the ravaging effects of the viral infection.
California's kelp forests provide immeasurable ecosystem and societal services. Such as serving as a home for many coastal species, as refuges for important larval fisheries species, acting as a natural breakwater to moderate wave action during storms, and consuming excess nutrients and CO2 for the water. Because of the multiple services that kelp forests provide, efforts to conserve and restore our kelp forests align perfectly well with the broad goals of USC's sustainability efforts.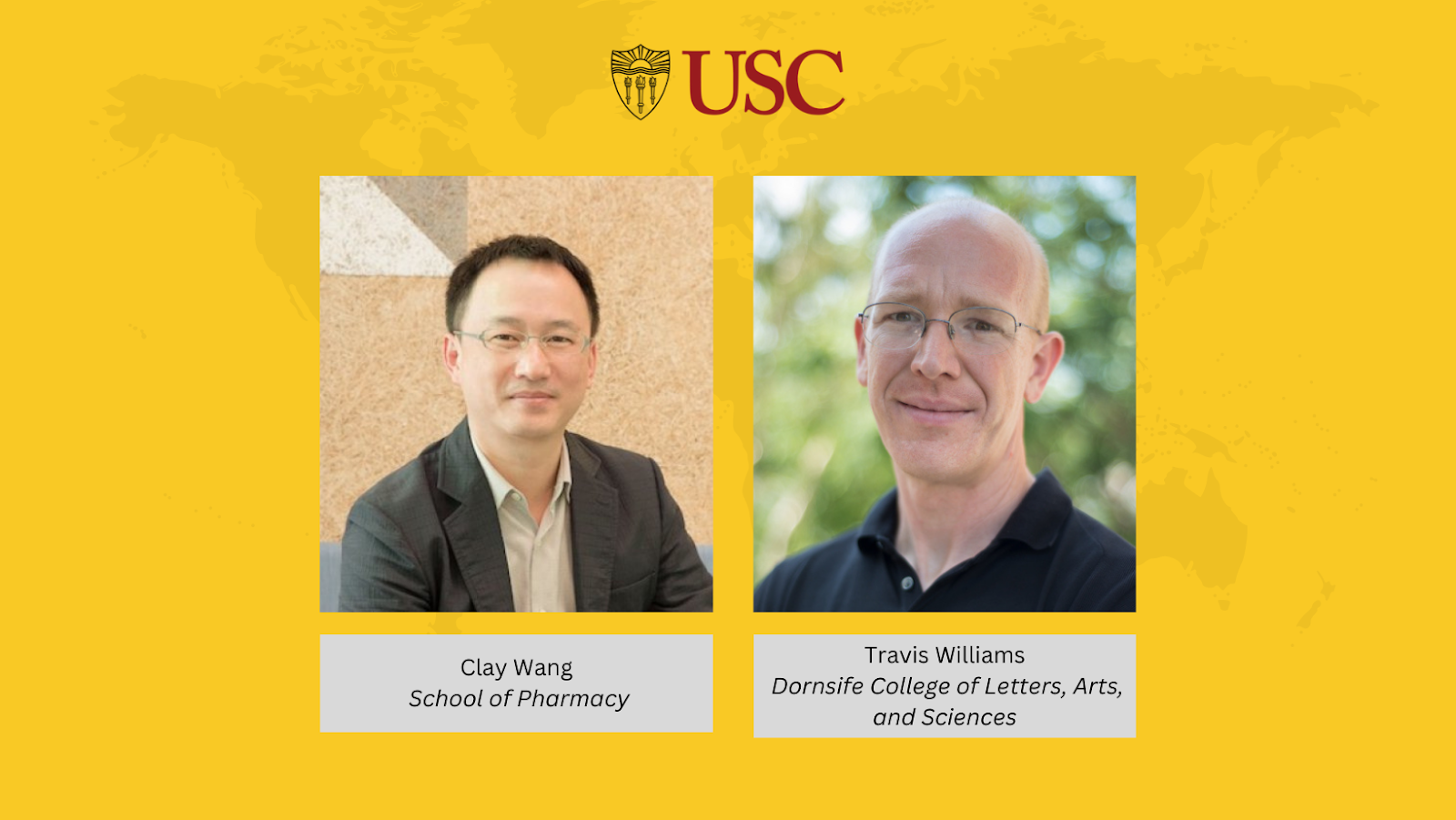 Project: "Converting Plastics into High Values Chemical Using Knowledge from Rules of Life"
The continuously increasing production of plastics globally is estimated to reach a volume of 1.1 billion tons annually by 2040. This increasing production of plastic is especially evident from the Great Pacific Garbage Patch, a gigantic spread of microplastics with accumulated larger debris that stretches more than 600,00 square miles. Because of this, researchers from the USC Pharmacy and Chemistry departments have developed a method to transform post-consumer mixed plastics into diverse and valuable secondary products with unprecedented efficiency. As a result, this project has exciting potential applications for pharmaceutical development, manufacturing materials, and other innovative products.
With durability and sterility being the main properties that make plastics useful, they prevent environmentally friendly degradation and recycling. Due to this, and the ineffectiveness of current cost and remanufacturing methods, Dr. Clay Wang, professor at USC Mann and chair of the department of pharmacology and pharmaceutical sciences, and Dr. Travis Williams, professor of chemistry organic and organometallic chemistry, believes that chemical recycling may be the solution to address many existing environmental issues.
Dr. Wang said,"The ultimate goal is to develop a method that could be used on a mixture of plastics. Right now, if you go to recycle your plastic waste, there's only one bin, but there are actually several different classes of plastics. There are systems that sort them, but ideally, we'd like to be able to tackle mixtures of plastics using a similar approach."
The Office of R&I is proud to launch the PSIA program, support academic research through RII funding, and promote the importance of sustainability globally. To be considered for the next round of PSIA program funding, the RFP deadline is March 18, 2024. This sustainability-focused initiative aims to provide profound benefits that will ultimately improve our planet and our lives for many generations.