Six Faculty Received the Inaugural SBIR/STTR Planning Award
By Tran Courtney and Jordan Locy
As the first research institution in California, USC has been at the forefront of impactful research with its mission to inspire innovation and invest in faculty's discovery to commercialization path. Conducting research opens transformative possibilities and University funding provides researchers the opportunity to advance research and development (R&D) and determine commercialization potential which requires significant financial support. The USC Office of Research and Innovation (R&I) has developed a robust internal funding track to support faculty members in their efforts to obtain federally funded grants and pursue an entrepreneurial path.
"Impactful scientific and technological discoveries must be translated for societal benefit through a sustainable business model," says Dr. Ishwar K. Puri, senior vice president of research and innovation. "We're privileged to collaborate with our world-class researchers, to whom we offer multi-faceted support that enables them to obtain additional external funding."
The USC internal Small Business Innovation Research (SBIR) / Small Business Technology Transfer (STTR) Planning Award is a first-of-its-kind infrastructure and is unique in its offerings, given it works as both a resource and support system to prepare faculty in their pursuit of SBIR/STTR federally funded opportunities which is a highly competitive application process. Federal agencies offer SBIR/STTR awards that enable partnerships for small businesses with researchers; and under these awards, the companies themselves apply for the grants. Oftentimes, these companies applying for SBIR/STTR funding are founded by university faculty and researchers with limited resources. The USC R&I Office promotes a culture of collaboration and entrepreneurship and encourages faculty to launch start-ups as founders. The internal SBIR/STTR funding program pushes entrepreneurial-minded faculty to seek external funding opportunities and enables them to accelerate their ventures.
The first six inaugural USC SBIR/STTR internal funding program grants were awarded after the program's introduction this year. The awards were made in a wide range of topics and focus areas. Many programs are led by faculty members serving as principal investigators and directing their company's ongoing R&D and commercialization efforts. The 2023 SBIR/STTR Planning Award recipients are: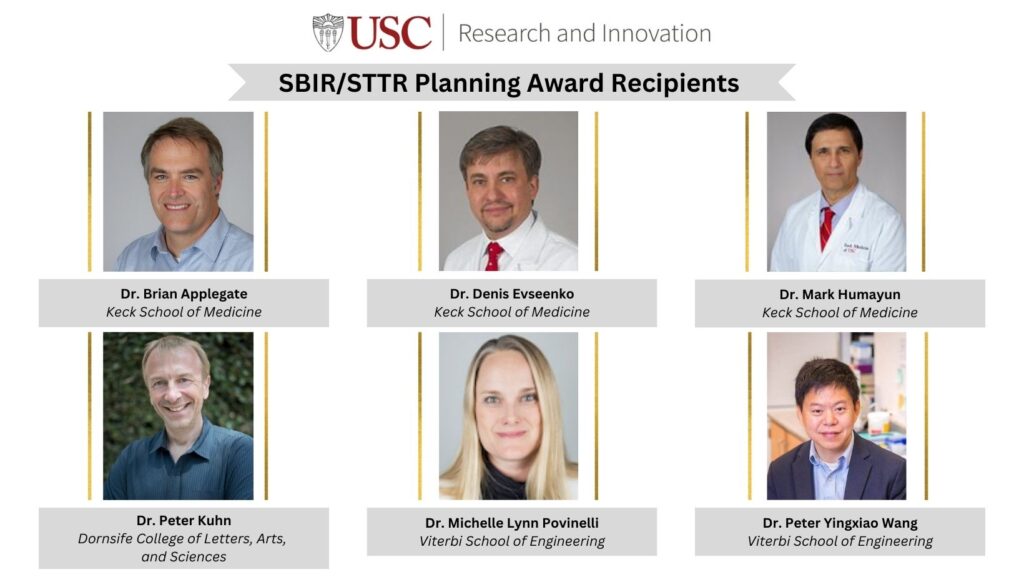 Project: Aurisview: An OCT Otoscopic System
Principal Investigator Dr. Brian Applegate and industry partner Exemplify Diagnostics team are commercializing an imaging screening device for the tympanic membrane and middle ear to provide immediate and clinically meaningful assessment of the health of the patient's ear as well as enable hearing preservation.
Project: Systemic Drug Candidate for Multi-joint Osteoarthritis and Pain
Principal Investigator Dr. Denis Evseenko and industry partner ReParris team aim to advance a novel, patent-protected drug designed to target and maintain chronic inflammation and suppress regeneration of synovial joints for humans and companion animals.
"I am incredibly thankful for the Office of Research and Innovation to support us; not only did I receive this grant, but on other external applications, they have been of great help," said Dr. Evseenko, associate professor of Orthopaedic Surgery, director of Skeletal Regeneration, and vice chair for Research of Orthopaedic Surgery at USC.
Project: Advancing Development of an Automated, Large-Scale Manufacturing System to Support Broad Market Accessibility of a Bioengineered Stem-Cell Based Implant for the Treatment of Advanced Dry-Age Related Macular Degeneration
Principal Investigator Dr. Mark Humayun and industry partner Regenerative Patch Technologies aim to implement key technologies that will enable the development of an automated manufacturing platform and a bio-engineered, stem-cell-based subretinal implant for the eye that will increase the number of implants per year and provide affordable accessibility to all patients with geographic atrophy regardless of socioeconomic status.
Project: Digital Tools Enabling Remote Clinical Trials
Principal Investigator Dr. Peter Kuhn and industry partner Cansera, Inc. aim to develop technologies and services for fully remote interventional clinical trials in collaboration with pharmaceutical companies.
"One of the great benefits of being at USC is to receive support from the Office of Research and Innovation, through programs internally such as this one," said Dr. Kuhn, Dean's Professor of Biological Sciences and Professor of Medicine, Biomedical Engineering, Aerospace & Mechanical Engineering, and Urology at USC.
Project: Investigation of Deposition Methods for Microphotonic Thermal Control Coatings
Principal Investigator Dr. Michelle Lynn Povinelli and industry partner KL Coatings, Inc. aim to design, build, and test microphotonic thermal control coatings for adaptive thermal regulation applicable to broad application domains such as technologies ranging from temperature control of satellites, reduction of the energy costs associated with building heating and cooling, and reduction of the breathing losses arising in oil and gas storage.
Project: Engineering Reversible and Inducible PSMA CAR T Cells for Prostate Cancer Immunotherapy
Principal Investigator Dr. Peter Yingxiao Wang and industry partner Acoustic Cell Therapy, Inc. aim to convert ultrasound waves into short pulses of local heat generation for cell stimulation that targets the treatment of prostate cancers.
---
"We are incredibly pleased to move this important work forward, as it sets the stage to commercialize the impactful intellectual property of our researchers and faculty that can lead to ground-breaking research," said Dr. Steven Moldin, interim associate vice president of research strategy and innovation and interim executive director of the USC Stevens Center for Innovation.
This fall, the USC R&I Office is hosting a series of virtual lectures for faculty members that will shed light on the application process when submitting SBIR/STTR applications and will help with the writing and development of these proposals. The 3-part lecture series will be led by Dr. Joanne Goodnight, who has more than 25 years of federal government service, most of which was spent at the National Institutes of Health (NIH) serving as the SBIR/STTR Program Coordinator. Registration information for the series can be found here.