The USC Research and Innovation (R&I) office strives to support faculty in their research endeavors and position them to successfully pursue external funding opportunities. R&I's robust internal funding programs promote multidisciplinary and convergent research activities that encourage collaborations across USC schools and programs and with other academic institutions and small businesses.
The Collaborative Research Planning Award (CRPA) supports the creation of multidisciplinary research teams, bringing together several disciplines to provide a broad range of expertise and generate creative solutions to solve real-world problems. Such collaborations enable research questions to be viewed from different perspectives and can potentially change how researchers think about their own discipline. The program encourages faculty teams to apply at any stage of research, from brainstorming to the formation of a reach team to proposal submission to the external sponsor. The CRPA Small Program Award (Track 1) supports a two-year project period. The first year offers funding for faculty in the initial stage of the collaborative process, to conceptualize, build, and solidify their research team, fine-tune the research objectives, and identify the most appropriate external funding mechanism to be targeted, which is then followed by proposal submission at year 2. The CRPA Large Program Award (Track 2) is a one-year award that offers support for already established research teams with an identified external funding target, supporting all research activities to optimize and strengthen their proposal. USC R&I internal award programs provide the initial funding support needed to build out large-scale, collaborative, federally-funded efforts.
"We are thrilled to move the awarded projects forward and to offer the proposal teams initial support that will only further enhance their potential success in applying for external funding," said Dr. Ishwar K. Puri, senior vice president of USC Research and Innovation.
2023 Collaborative Research Planning Award recipients: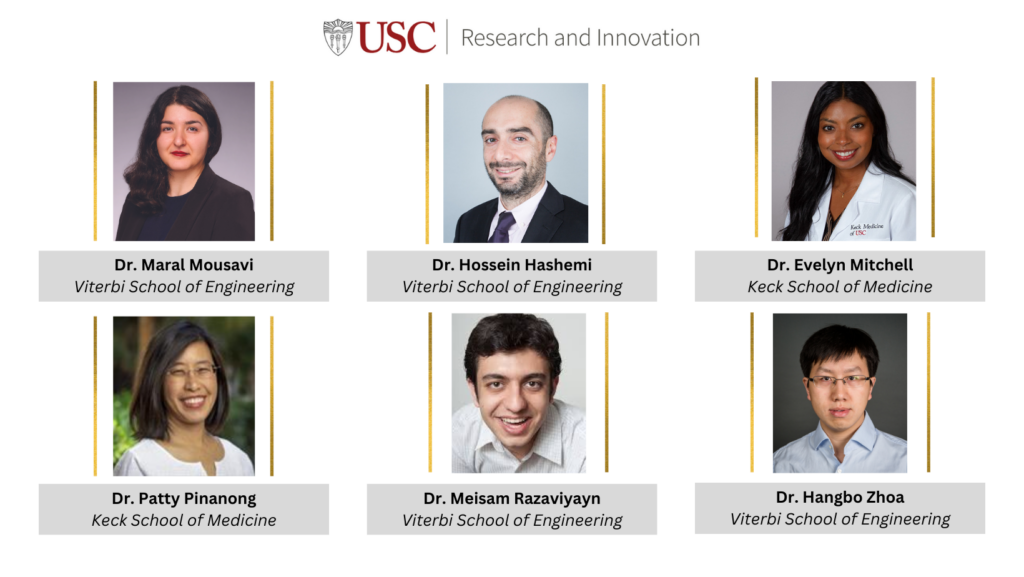 Engineering Accessible Tools for Redesigning Postpartum Care
Principal Investigator Dr. Maral Mousavi and Co-Principal Investigators Drs. Evelyn Mitchell, Meisam Razaviyayn, Patty Pinanong, Hossein Hashemi and Hangbo Zhoa form an interdisciplinary team that aims to develop innovative, accessible, and affordable at-home monitoring tools and wearable sensors to simplify frequent health monitoring during the postpartum period to improve and accelerate recovery for new mothers experiencing postpartum.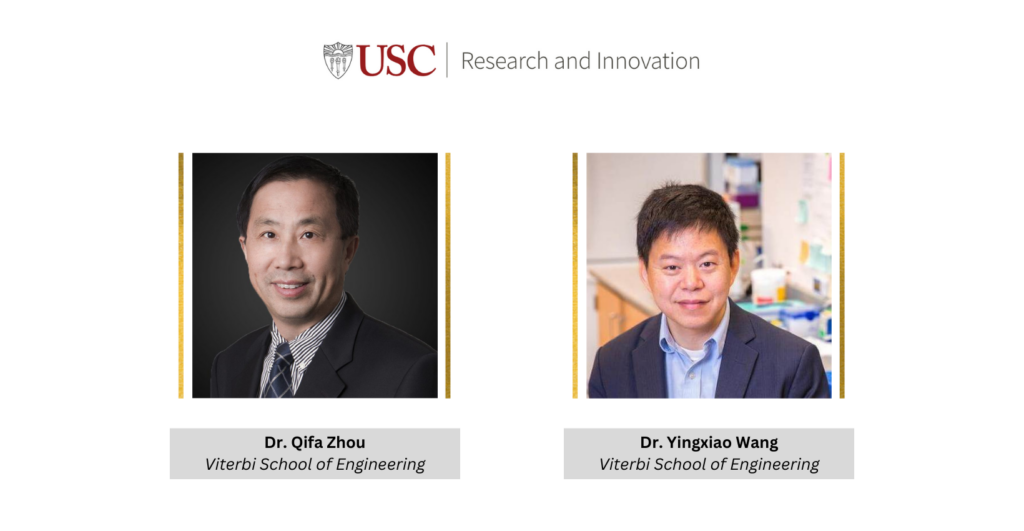 Focused Ultrasound-Stimulation of Cells/Tissues/Animals to Diagnose and Treat Human Disease
Principal Investigator Dr. Qifa Zhou and Co-Principal Investigator Dr. Yingxiao Wang, address untapped ultrasonic technology and foster a collaborative environment of USC biomedical engineers and biologists to accelerate the utilization of ultrasound energy beyond its current limited applications in biomedical imaging, and explore its potential for new diagnostic and therapeutic uses.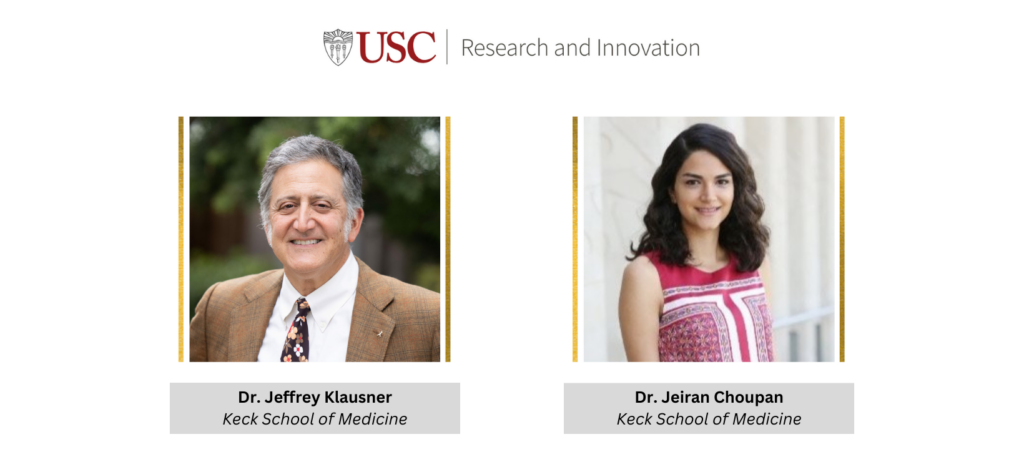 Program Project Proposal on Long Neuro-COVID-19
USC'sPrincipal Investigator Dr. Jeffrey Klausner and Co-Principal Investigator Dr. Jeiran Choupan, in collaboration with Northwestern University's multidisciplinary research team, aim to study the pathogenesis of the chronic neurological manifestations of post-acute sequelae of SARS-CoV-2 infection, develop and evaluate biomarkers of disease, and inform treatment pathways.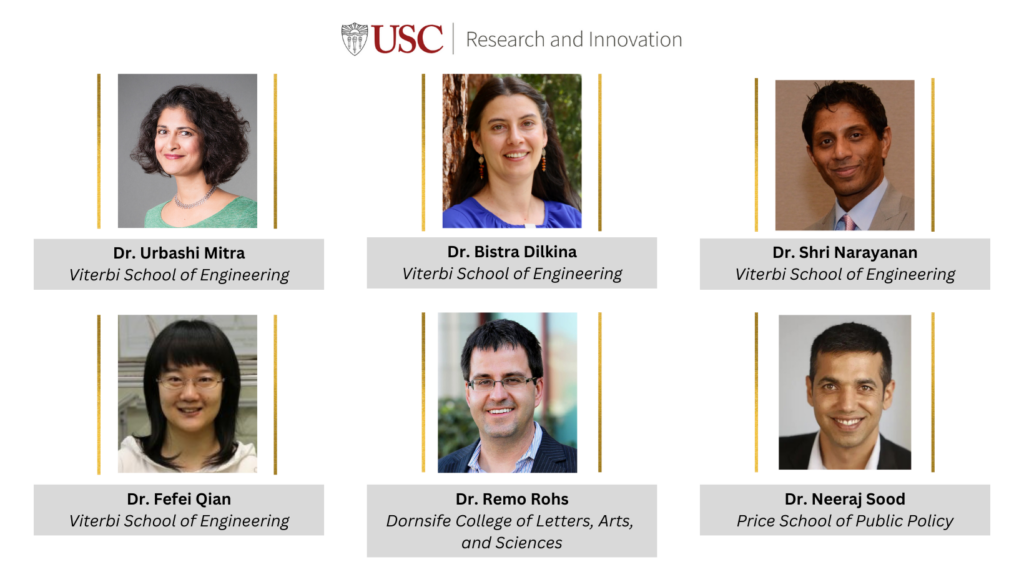 Transdisciplinary Innovation in Predictive Science for Emerging Infectious Disease and Spillover
Principal Investigator Dr. Urbashi Mitra and Co-Principal Investigators, Drs. Neeraj Sood, Remo Rohs, Feifei Qian, Shri Narayanan, and Bistra Dilkina, propose a multi-university, transdisciplinary center to develop methods and technology for the detection of spillover events at the animal-human interface that enable zoonotic pandemics.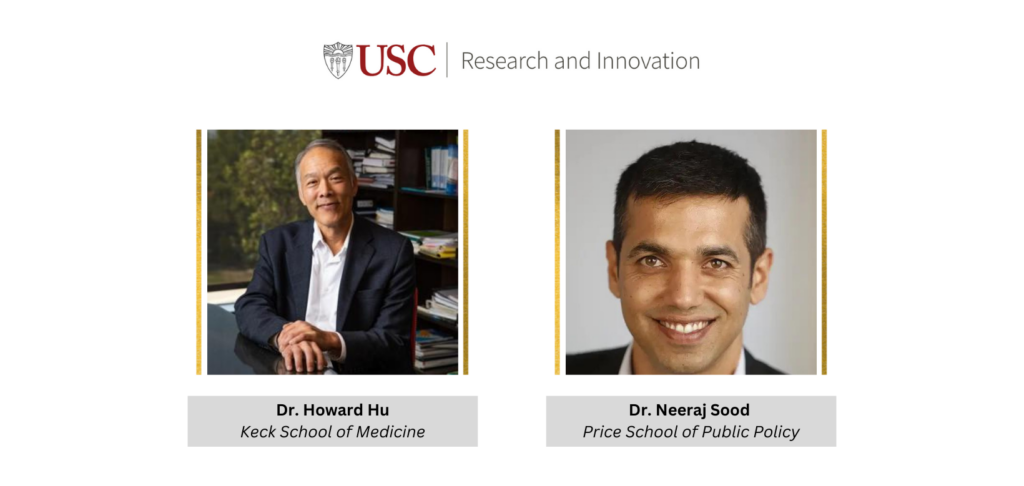 Building a Faculty Team and Platform for Research on Health and Health Policy that Improves Population Health in a Low Resource Setting in India Known for Innovation: The State of Meghalaya
Principal Investigator Dr. Howard Hu and Co-Principal Investigator Dr. Neeraj Sood propose to leverage bi-directional research ideas on population health and health policy developed between USC Keck School of Medicine and Price School of Health Policy investigators with collaborators in state institutions in Meghalaya, India, with the aim to develop a robust interdisciplinary research program.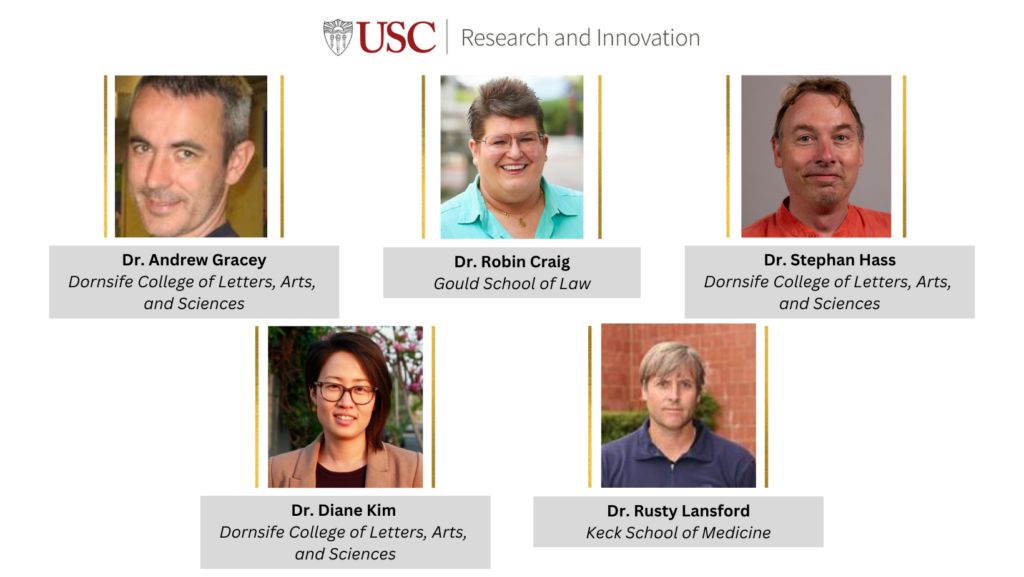 Global Center for Marine Carbon Dioxide Removal
Principal Investigator Dr. Andrew Gracey and Co-Principal Investigators, Drs. Rusty Lansford, Stephan Hass, Robin Craig, and Diane Kim, propose to develop a global center to advance sustainable kelp aquaculture and climate-ready kelp forest management.
---
"A critical aspect of any external funding effort is a strong, established foundation, comprised of a committed research team and well-developed research premise," said Dr. Steven Moldin, interim associate vice president USC Research Strategy and Innovation and interim executive director of the Stevens Center for Innovation. "This internal program is an important step in developing research proposals and further positioning faculty for success as they move towards submitting externally funded proposals."